Director of Marketing
Summary: 
Manages large brand initiatives such as World Hunger Day, Christmas, Holiday Campaign, 2021 photoshoot.
The Director of Marketing is a key member of the This Saves Lives team. The Director of Marketing is responsible for overseeing the planning, development and execution of the organization's marketing and advertising initiatives. The Director of Marketing's primary responsibility is to generate revenue by increasing sales through successful branding and marketing for the organization, using market research, pricing, product marketing, marketing communications, advertising and public relations.
This role will oversee all consumer marketing touchpoints and requires significant experience developing impactful marketing strategies, in-depth knowledge of multichannel paid media planning, management skills and innovative instincts that extend brand reach. In this position, you will create and implement creative concepts, marketing strategies, and solutions. Most importantly, we are looking for someone with a passion for our mission of helping others and making an impact in the world around them. rms, tracking implementation, attribution modeling, and analysis required to make data informed decisions to test, optimize, and scale all types of digital marketing programs effectively. The ability to operate on both a strategic and tactical level is crucial, along with collaborative skills to work across teams on high level company goals. This person will help lead a team that touches all aspects of the paid search and digital marketing roadmap including keyword management, creation of campaign messaging, bidding strategies, audience targeting, creative testing, analytics, and technical know-how.

Essential Duties & Responsibilities: 
Develop strategy and execute campaigns for a growing brand, initiatives and marketing plans including objectives, strategies and tactics through any medium
Oversees marketing plans inclusive of needs for production, creative, branding, research, events, advertising, media planning and account management
Collaborate and develop holistic cross-channel marketing strategies with company goals in mind
Oversee and approve marketing material, from digital, print, partner or cross department elements
Analyze market data to identify key marketing opportunities including consumer insights, competitive analysis and new audience acquisition
Collaborate across departments on multi-platform solutions, value earned marketing opportunities, sales / partnership opportunities as they apply to marketing plans / strategy
 Overseeing all online and offline branding and product campaigns to raise brand awareness.
Responsible for the creation and management of the Marketing Content Calendar and activities.
Maintain an understanding of the Marketing needs throughout the organization
Provide strategic Marketing thought leadership..
Assess and anticipate projects and recommend appropriate action and resources.
Qualifications: 
5 years' experience in Marketing
5 years experience in Digital Marketing
Strong strategic marketing background with a proven track record of delivering measurable business results
Solid track record of leading and collaborating with cross functional teams/projects
Out-of-the-box thinker and solution seeker
Efficient multitasker
Self-starter who is experienced, strategic, creative, innovative, and passionate
A natural ability to collaborate well with others across the organization and thrive in a fast-paced environment
Outstanding leadership and organization skills
Ability to multi-task and prioritize in a fast-paced and dynamic work environment
A strong, self-motivated leader, who thrives on collaborating with teams across the organization
An accountable, organized individual with great attention to detail and focus on quality of results
A passion for helping others and saving children's lives!
Interested in Applying?
Email your resume to

careers@thissaveslives.com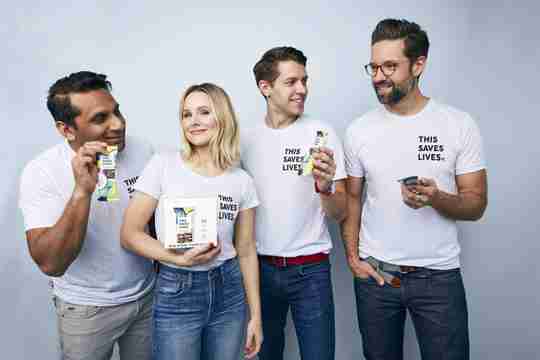 We're Not Your Typical Snack Bar

We are cofounded by four actors who believe all children deserve the opportunity to thrive. We make ridiculously delicious snacks with premium ingredients.

See what people are saying!
"I am not over-exaggerating when I say that this bar is the absolute BEST. It is the perfect balance of salty and sweet, and the chocolate is out of this world. Love love love these and would totally recommend these to chocolate & peanut butter lovers :)"

—Ela V.



"I love these bars. First time I had them. I like what you guys are doing and I shop the little amount I spend helps some!"
—Joshua N.



"This is the best tasting bar I have ever tried. It hits all the right notes! It's filling and so delicious! The fact that by eating it I am helping others is all the better!"
—Stephanie T.

"The Absolute Best Bar - I thought while ordering that this would be just another regular tasting chocolate bar. But no! This bar is divine, so delicious - I can't stop eating them! It's like a peanut butter cup. I'm ordering more right now!'

—Laura G.