Creative Manager
Summary: 
Responsible for creating all brand assets for the brand, for retail, and ecommerce.
As This Saves Live's Creative Manager you will bring a creative voice to the team. The Creative Manager is responsible for creating digital advertising, email graphics, ecommerce banners in both static and animated formats, as well as printed materials. The Creative Manager also assists in producing marketing and brand visual assets.
We are looking for a solution-oriented individual to bring a diverse array of experiences to the role—from conceptual development to client relations to the execution of creative deliverables. In this position, you will create and implement creative concepts, marketing strategies, and solutions. Most importantly, we are looking for someone with a passion for our mission of helping others and making an impact in the world around them.

Essential Duties & Responsibilities: 
Visual creation of all brand assets across all digital platforms. This will include graphics for the homepage, emails, special landing pages, and new brand and new product launches.
Creation of assets for print. This will include sales assets, retail advertising, and marketing materials.
Creation of motion graphics for use in digital marketing channels
Develop, create and execute compelling high-impact designs on a consistent basis.Contribute creative solutions and innovations.
Perform strategic marketing planning with senior management.
Conceive and create experience design solutions that fulfill strategic business objectives.
Effectively communicate creative ideas and strategies to the team.
Lead and partner with multidisciplinary teams.
Provide and learn from constructive feedback.
Develop, implement, and monitor quality standards across all creative department artifacts and deliverables.
Improve upon creative department methods, problem-solving models, and best practices.
Set and exceed expectations for deliverables, estimations, and project plans.
Assess and anticipate projects and recommends appropriate action and resources.
Understand, embrace, and communicate This Saves Live's mission and values.
Qualifications: 
5+ years design, marketing, and communications work experience. Experience in campaign, digital, conceptual, and leadership is a must
5+ years digital advertising experience.
Passion for advertising and eagerness to collaborate with other creative people.
Experience developing e-commerce, electronic marketing, and online brand management and integration, with demonstrated results.
Out-of-the-box thinker and solution seeker
Efficient multitasker
A passion for helping others and saving children's lives!
Interested in Applying?
Email your resume to

careers@thissaveslives.com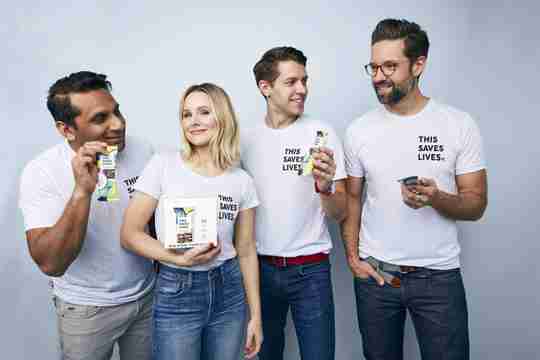 We're Not Your Typical Snack Bar

We are cofounded by four actors who believe all children deserve the opportunity to thrive. We make ridiculously delicious snacks with premium ingredients.

See what people are saying!
"I am not over-exaggerating when I say that this bar is the absolute BEST. It is the perfect balance of salty and sweet, and the chocolate is out of this world. Love love love these and would totally recommend these to chocolate & peanut butter lovers :)"

—Ela V.



"I love these bars. First time I had them. I like what you guys are doing and I shop the little amount I spend helps some!"
—Joshua N.



"This is the best tasting bar I have ever tried. It hits all the right notes! It's filling and so delicious! The fact that by eating it I am helping others is all the better!"
—Stephanie T.

"The Absolute Best Bar - I thought while ordering that this would be just another regular tasting chocolate bar. But no! This bar is divine, so delicious - I can't stop eating them! It's like a peanut butter cup. I'm ordering more right now!'

—Laura G.